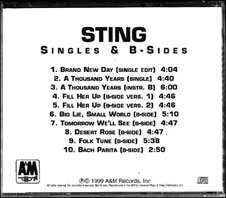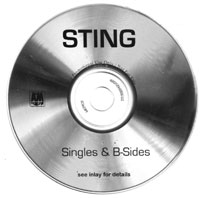 Even if this is a CDr, and I have to list it as it is one of the rarest and most interesting item. Which is interesting is the content : tracks which were supposed to be released as b-sides in the first place but this never happened.

Also, the sound quality is not perfect, seems it hasn't go to the final mixing...

In 2001, 2 of these songs (Fill her up & Desert rose) werre finaly released on the Fragile single issued from ...All this time live album.

Here comes review of the tracks, by Erwin Kempen and me :
A thousand years : is a single edit version (4.40), not many changes to the song, pretty much the same as the single release, the beginning is different, lets say the skipped the first part.

A thousand years : as instrumental b-side (6.00), with a 3 seconds longer start.

Fill her up : version 1 (4.46), completely different arrangement than the one on the album, still very much a country song. Lyrics are the same.

Fill her up : version 2 (4.46), slightly different than the above still different. I think that these are probably stings first ideas of the song and that this was changed later in the version which was released.

Big lie small world : b-side version (5.10) , Guitar intro is the same but the rest of the song is completely instrumental with Sting only on backing vocals, these vocals are different than the album release... ver interesting version.

Tomorrow we'll see : b-side version (4.47) , I didn't hear any differences.

Desert Rose : b-side version (4.47) , Cheb Mami isn't on it so it looks very different, arrangement is on some places different aswell, again sting is doing 2nd voice only.

Folk Tune : (5.38) Is probably the working tittle for "Ghost story". Sounds like an early arrangement, completely instrumental.

Bach Parita : (2.50) , could have been for the CD-ROM game I think, Sting on accoustic guitar playing a classical song.